POSTED SEPTEMBER 28, 2020

---
POSTED SEPTEMBER 16, 2020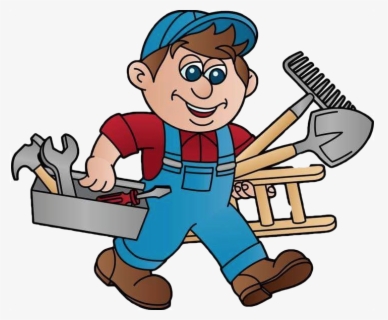 Residential Handyman / Groundskeeper – Woodstock, CT
Cleaning facilities by sweeping, dusting etc.
Performing maintenance and light repairs
Performing routine landscaping on the grounds
We are looking for a reliable Handyman / Groundskeeper to undertake upkeep and repair tasks at the interior or exterior of horse property located in Woodstock, CT. We'll rely on you to keep our facilities in perfect condition by doing various odd jobs.
Looking for a well-organized individual with strong general repair skills. A keen eye for detail and physical stamina are valued greatly in this job.
Responsibilities include:
Clean facilities by sweeping, dusting etc.
Perform maintenance and light repairs
Perform routine landscaping on the grounds
Assist tradespeople with electrical, plumbing or HVAC repairs
Undertake duties as assigned or emergency tasks (e.g. shoveling snow)
Identify and report the need for major repairs
Requirements
Proven experience as handyman
Experience with tractors, lawn & electrical equipment, hardware tools, etc.
Good communication ability
Well-organized and apt in problem-solving
Attention to detail
High school diploma or equivalent
Job Type: Part-time or Full-time available. Hourly rate based on experience level.
Send resume to bchristine342@gmail.com
---
POSTED SEPTEMBER 14, 2020

---
POSTED SEPTEMBER 11, 2020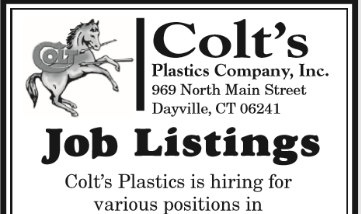 Finishing
1st Shift = 1 packer
2nd Shift = 2 packers
Compression Molding
3rd Shift = operator 
Injection Molding
1st Shift = Department Supervisor
If interested please submit resume to
---
POSTED SEPTEMBER 10, 2020

---
POSTED SEPTEMBER 9, 2020

---
---
IF YOU ARE AN EMPLOYER THAT WOULD LIKE TO ADVERTISE YOUR POSITION ON OUR EXCHANGE, PLEASE CALL KERRI PRICE AT 860-928-1350 FOR MORE INFORMATION.