Brian Battles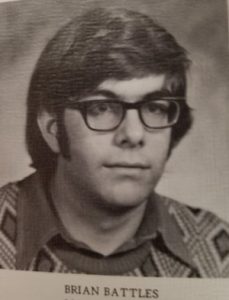 Brian Battles
Sunday Morning Groove Host
Class of 1975
East Hartford High School
The Sunday morning 6-11 AM show is a mix of classic rock and surprising cool deep tracks from the era when rock and roll grew up, the 1960s and '70s!.
Your host Brian Battles was infected with the terminal, incurable broadcasting virus as a youngster. He grew up in East Hartford, and initiated his on-air hijinks on a friend's neighborhood "pirate" station during middle school, then after graduating from East Hartford High School in 1975 he got on "real" (legit) radio when he began attending the University of Connecticut and joined WHUS. He's proud to have been a key member of the staff that upgraded WHUS from mono to stereo, changed its rules to allow non-student members of the community to join the staff, and increased the station's broadcasting schedule to full-time 24/7/365. He broke into commercial broadcasting when Mike Gerardi from WINY called him and asked him to audition for a part-time weekend DJ job at WINY in Putnam in 1977. From there Brian moved on to WXLS (now WILI-FM), WKND, WCCC (three separate stints), WBAB, WAQY, WMEX and WWUH.
In the mean time he was also Features Editor for QST Magazine at ARRL HQ in Newington, an audio producer at CareerTrack in Boulder, Colorado, and a computer database programmer. Brian has also been a ham radio operator since 1976 (WS1O, ex-WA1YUA). He has two (embarrassed!) adult children.
Having moved to Pomfret in the summer of 2019, a few months later Brian rejoined his first radio employer, as WINY's Sunday rock and roll madman!
Contact him at brian@brianbattles.com, on Twitter as @BrianBattles and on Facebook as BrianBattlesCT.