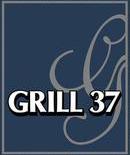 FEATURED RECIPE OF THE WEEK
TO VISIT GRILL 37  WEBSITE CLICK THE LOGO
Jalapeno Popper Dip
Ingredients
7 slices bacon, diced
16 ounces of cream cheese, softened
1 cup mayonnaise
1 cup shredded Cheddar cheese
1/2 cup shredded mozzarella cheese
1/4 cup chopped green onion
5 jalapeno peppers, seeded and chopped
directions:
Preheat oven to 350 degrees.
Cook and stir bacon in a large skillet over medium-high heat until crisp, about 10 minutes. Remove bacon with a slotted spoon to a plate lined with paper towels and drain. Or cheat a little and use the pre-cooked bacon.
Stir bacon, cream cheese, mayo, cheddar, mozzarella, green onion and peppers in a bowl. Spread into a low baking dish.
Make topping: In a separate bowl, mix 1 cup crushed buttery type crackers, 1/2 cup grated parmesan and 1/4 cup butter, melted. Spread over the cream cheese mixture.
Bake until bubbly, 20 to 30 minutes.
Serve with tortilla chips and raw veggies.
Happy Cooking!
ENJOY!!!  HAPPY  COOKING!
Tune in every  Thursday at 3 p.m.  for "Cooking with Karen"
If you would like to submit  your favorite  recipe, please  email it to
kareno@winyradio.com
 QUICK MENU:      
WE   HAVE  CATEGORIZED THE RECIPES FOR YOUR CONVENIENCE…..
PAST RECIPES OF THE WEEK……
CLICK ON  THE CATEGORY   YOU RE LOOKING FOR AND YOU WILL FIND YOUR FAVORITE RECIPE OF THE WEEK, THEN JUST CLICK ON  IT AND OPEN.