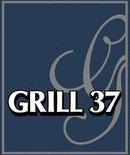 FEATURED RECIPE OF THE WEEK
TO VISIT GRILL 37 WEBSITE CLICK THE LOGO
 Fried Green Tomatoes
4-5 large green tomatoes
1 cup corn meal
1 cup flour
3-4 eggs
Pinch salt + a little for ducting tomatoes
Pinch pepper
Pinch paprika
Oil to fry the tomatoes. 2-3 cups
-Slice your Green tomatoes in to ¼ in slices. Place on a paper towel and sprinkle with salt to draw out extra moisture. Let sit for 15 min and pat dry.
-Mix 2 eggs in a separate bowl, with a pinch of paprika, pinch black pepper, and pinch of salt
-Place your flour and corn meal in 2 separate shallow bowls.
-Heat your oil in a frying pan to 350*
-One slice of tomato at a time, dredge in flour, then egg mixture and then coat with corn meal. Tap off any extra breading and fry at 350* for 1-2 min until golden brown on one side, carefully flip the tomatoes one at a time to cook the other side.
-When tomatoes are done place on a paper towel to absorb any extra oil. Best served warm with a creamy dipping sauce.
Remoulade Sauce:
1/2 cup mayonnaise
1 ounce Creole mustard
1/2 ounce horseradish
1/2 ounce lemon juice
1 teaspoon Worcestershire sauce
2 slashes hot sauce (recommended: Tabasco)
For my sauce, I mix equal parts of mayo and French dressing. Or equal parts mayo and Heinz chili sauce.
ENJOY!!!  HAPPY COOKING!
Tune in every Thursday at 3 p.m. for "Cooking with Karen"
If you would like to submit your favorite recipe, please email it to
kareno@winyradio.com
 QUICK MENU:   
WE  HAVE CATEGORIZED THE RECIPES FOR YOUR CONVENIENCE…..
PAST RECIPES OF THE WEEK……
CLICK ON THE CATEGORY  YOU RE LOOKING FOR AND YOU WILL FIND YOUR FAVORITE RECIPE OF THE WEEK, THEN JUST CLICK ON IT AND OPEN.