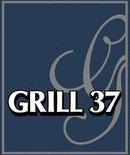 FEATURED RECIPE OF THE WEEK
TO VISIT GRILL 37 WEBSITE CLICK THE LOGO
PESTO PASTA WITH SHRIMP
YOU WILL NEED:
3 CUPS OF FRESH BASIL
2 TBS TOASTED PINE NUTS
1 GARLIC CLOVE
½ CUP PLAIN GREEK YOGURT
2 TBS GRATED PARMESAN CHEESE
2 TBS OLIVE OIL
1 POUND OF PASTA, SOMETHING YOU CAN TWIRL
1 POUND STEAMED CHOPPED ASPARAGUS
8 OUNCES SAUTEED SHRIMP
TOASTED BREADCRUMBS OR CRUNCHED UP CROUTONS
DIRECTIONS:
PREP YOUR SHRIMP AND ASPARAGUS. 
IN A FOOD PROCESSOR, PULSE THE BASIL, PINE NUTS AND GARLIC.  ADD YOGURT, PARMESAN AND OLIVE OIL.  PULSE UNTIL SMOOTH. 
COOK YOUR PASTA.  RESERVE ½ CUP OF COOKIN G WATER. 
TOSS YOUR COOKED PASTA WITH THE PESTO, ASPARAGUS, SHRIMP AND THE RESERVED COOKING WATER. 
TOP WITH BREADCRUMBS AND SERVE.
 ENJOY!!!
Tune in every Thursday at 3 p.m. for "Cooking with Karen"
If you would like to submit your favorite recipe, please email it to
kareno@winyradio.com
 QUICK MENU:   
WE  HAVE CATEGORIZED THE RECIPES FOR YOUR CONVENIENCE…..
PAST RECIPES OF THE WEEK……
CLICK ON THE CATEGORY  YOU RE LOOKING FOR  AND YOU WILL FIND YOUR FAVORITE RECIPE OF THE WEEK, THEN JUST CLICK ON IT AND OPEN.