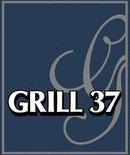 FEATURED RECIPE OF THE WEEK
TO VISIT GRILL 37 WEBSITE CLICK THE LOGO
FUNERAL POTATOES:  Not sure why they are called Funeral Potatoes, because they are just as delicious on any occasion.
You will need
2 lbs frozen hash browns
1/2 cup butter
2 (10 3/4 ounce) cans condensed cream of chicken soup
1 pint sour cream
1/2 teaspoon salt
3/4 cup onion, chopped
1 tablespoon butter
2 cups longhorn cheese, grated, firmly packed
1 1/2 cups corn flakes, crushed
4 tablespoons butter, melted
Directions
Saute onion in 1 tablespoon butter until translucent.
Mix all ingredients, except cornflakes and 4 tablespoons butter, together.
Put potato mixture into a buttered 9×13 inch baking pan.
Combine cornflakes and butter, and sprinkle evenly over top of casserole.
Bake at 350 degrees F for 40-50 minutes or until heated and bubbly.
About Longhorn cheese
Longhorn is a mild yellow type of cheddar cheese named after the Longhorn cow.  This cheese is produced in long cylinders then cut into rectangles or half-circle shapes. Longhorn is a good cheese for enchiladas or as a melting cheese.   Mild or Medium cheddar cheese OR Monterrey Jack cheese is a good substitute. 
ENJOY!!!
Tune in every Thursday at 3 p.m. for "Cooking with Karen"
If you would like to submit your favorite recipe, please email it to
kareno@winyradio.com
 QUICK MENU:   
WE  HAVE CATEGORIZED THE RECIPES FOR YOUR CONVENIENCE…..
PAST RECIPES OF THE WEEK……
CLICK ON THE CATEGORY  YOU RE LOOKING FOR  AND YOU WILL FIND YOUR FAVORITE RECIPE OF THE WEEK, THEN JUST CLICK ON IT AND OPEN.