FEATURED RECIPE OF THE WEEK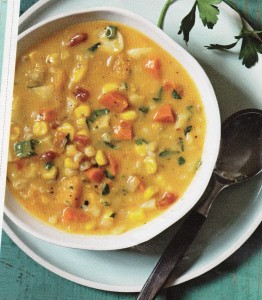 CROCKPOT VEGETABLE CHOWDER
YOU WILL NEED:
2 LARGE LEEKS (WHITE AND GREEN PARTS ONLY) CLEANED AND THINLY SLICED
1 LB DICED BUTTERNUT SQUASH
½ LB PARSNIPS, PEELED AND DICED
½ LB CARROTS, PEELED AND SLICED
2/3 CUP BARLEY
2 CLOVES GARLIC, SLICED
32 OUNCES VEGETABLE BROTH
1 (14.5 OZ) CAN PETITE CUT DICED TOMATOES
1 TSP THYME
1 BOX FROZEN CORN, THAWED
½ CUP HEAVY CREAM
¼ CUP CHOPPED FRESH PARSLEY
¾ TSP SALT
¼ TSP BLACK PEPPER
1/8 TSP CAYENNE PEPPER 
COMBINE LEEKS, SQUASH, PARSNIPS, CARROTS, BARLEY AND GARLIC IN SLOW COOKER.  STIR IN BROTH, 4 CUPS OF WATER, TOMATOES AND THYME.  COVER AND COOK ON HIGH FOR 6 HOURS OR LOW FOR 8 HOURS.  STIR IN CORN, HEAVY CREAM, PARSLEY, SALT, BLACK PEPPER AND CAYENNE.  LET SIT TILL CORN IS HEATED THROUGH, ABOUT 10 MINUTES. 
 ENJOY!!!
Tune in every Thursday at 3 p.m. for "Cooking with Karen"
If you would like to submit your favorite recipe, please email it to
kareno@winyradio.com
 QUICK MENU:   
WE  HAVE CATEGORIZED THE RECIPES FOR YOUR CONVENIENCE…..
PAST RECIPES OF THE WEEK……
CLICK ON THE CATEGORY  YOU RE LOOKING FOR  AND YOU WILL FIND YOUR FAVORITE RECIPE OF THE WEEK, THEN JUST CLICK ON IT AND OPEN.