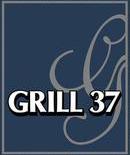 FEATURED RECIPE OF THE WEEK
TO VISIT GRILL 37  WEBSITE CLICK THE LOGO
Tiki Masala Nachos
You will need:
Pita chips, I use 3 bags since they are small
1 can of Chickpeas
1 cup diced eggplant
½ cup diced onions
1 cup diced potatoes (small pieces)
1 jar of Tiki Masala sauce
2 Tomatoes, diced
Shredded mozzarella
Plain yogurt
Fresh cilantro, chopped
Directions:  In a saucepan, add the eggplant, onions, potatoes and chickpeas to the jar of tiki masala sauce and simmer until vegetables are soft but not mushy.  Line a cookie sheet with parchment paper.  This will make transfer and clean up so easy.  
Layer pita chips, the cooked vegetables in sauce, chopped tomatoes and shredded mozzarella.  Bake at 350 degrees until cheese melts.  Top with dollops of yogurt and cilantro.  Slide the nachos, parchment and all, to a platter and serve. 
Optional:  If you want meat, add cooked chicken to the masala sauce.  Sometimes I sprinkle raisins or pomegranate seeds on top too. 
ENJOY!!!  HAPPY  COOKING!
Tune in every  Thursday at 3 p.m.  for "Cooking with Karen"
If you would like to submit  your favorite  recipe, please  email it to
kareno@winyradio.com
 QUICK MENU:      
WE   HAVE  CATEGORIZED THE RECIPES FOR YOUR CONVENIENCE…..
PAST RECIPES OF THE WEEK……
CLICK ON  THE CATEGORY   YOU RE LOOKING FOR AND YOU WILL FIND YOUR FAVORITE RECIPE OF THE WEEK, THEN JUST CLICK ON  IT AND OPEN.