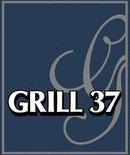 FEATURED RECIPE OF THE WEEK
TO VISIT GRILL 37 WEBSITE CLICK THE LOGO
Lemon Ricotta Pound Cake
1 ½ cup flour
2 ½ tsp Baking Powder
1 tsp salt
¾ cup butter (lightly soft but not at room temp)
1 ½ c ricotta cheese
1 ½ cup sugar
3 eggs
1 tsp vanilla
Zest and juice of one lemon
Pre-heat the oven to 350*
In a small bowl mix together your dry ingredients, flour, Baking Powder, and salt.  In another bowl beat together the butter, ricotta, and sugar until light, about 3 min. you can use a hand mixer or a stand mixer. Slowly add one egg at a time to the butter and cheese mixture until incorporated. Then mix in the lemon juice, zest and vanilla. Slowly mix in the dry ingredients and beat just until everything is combined. You do not want to over work the flour or the cake will be tough and chewy
Grease 9×5 baking dish and fill with batter. Bake at 350 until toothpick ready, about 30-40 min.
Let cool and slice. Best served with fresh fruit and whip cream.
ENJOY!!!
Tune in every Thursday at 3 p.m. for "Cooking with Karen"
If you would like to submit your favorite recipe, please email it to
kareno@winyradio.com
 QUICK MENU:   
WE  HAVE CATEGORIZED THE RECIPES FOR YOUR CONVENIENCE…..
PAST RECIPES OF THE WEEK……
CLICK ON THE CATEGORY  YOU RE LOOKING FOR  AND YOU WILL FIND YOUR FAVORITE RECIPE OF THE WEEK, THEN JUST CLICK ON IT AND OPEN.