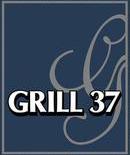 FEATURED RECIPE OF THE WEEK
TO VISIT GRILL 37  WEBSITE CLICK THE LOGO
PEAR TART
Ingredients
3 tablespoons butter, softened
1/2 cup sugar
3/4 teaspoon ground cinnamon
3/4 cup all-purpose flour
1/3 cup finely chopped walnuts
filling:
1 package (8 ounces) reduced-fat cream cheese
1/4 cup plus 1 tablespoon sugar, divided
1 large egg, room temperature
1 teaspoon vanilla extract
1 can (15 ounces) reduced-sugar sliced pears, drained well and thinly sliced
1/4 teaspoon ground cinnamon
Directions
Preheat oven to 425°. Beat butter, sugar and cinnamon until crumbly. Beat in flour and walnuts. Press onto bottom and up sides of a 9-in. fluted tart pan with a removable bottom coated with cooking spray.
For filling, beat cream cheese and 1/4 cup sugar until smooth. Beat in egg and vanilla. Spread into crust. Arrange pears over top. Mix cinnamon and remaining sugar; sprinkle over pears.  Bake 10 minutes. Reduce oven setting to 350°; bake until filling is set, 15-20 minutes. Cool 1 hour on a wire rack. Refrigerate at least 2 hours before serving.
Pumpkin Creme Brûlée
Course Dessert
Prep Time 20 minutes
Cook Time 1 hour
Total Time 1 hour 20 minutes
Servings 8 7-oz ramekins
Calories 320 kcal
Ingredients
4cups heavy cream
1vanilla bean split and seeds scraped
1/2cup pumpkin puree
1/2teaspoon pumpkin spice
1/2cup sugar
6large egg yolks
To brûlée the top
Instructions
Pre-heat oven to 325 F.
In a saucepan add heavy cream plus vanilla pod and scraped seeds. Over medium-heat, bring mixture to a boil. As soon as it comes to a boil turn heat off and set pan aside to let the cream be infused with the vanilla for about 10-15 minutes, while you get the rest of the ingredients ready.
In a bowl, combine egg yolks and 1/2 cup of sugar. Whisk until mixture is light in color. Add pumpkin puree and pumpkin spice to yolk mixture and mix until combined.
Remove vanilla pod from the saucepan and slowly add 1/3 of cream to the yolk/pumpkin mixture, while whisking non-stop. That's called tempering the eggs, so they don't cook as you add something hot to them. Since you let the mixture infuse for 10-15 minutes, it shouldn't be so hot anymore but it's still necessary to do this because you don't want your eggs to curdle. Once that 1/3 of the cream is incorporated into the egg mixture you can add the rest of it slowly while whisking.
Pour mixture evenly into 8 ramekins (I use the 7 ounce ramekins). Place ramekins in a roasting pan and pour hot water in the roasting pan until you reach about halfway of the ramekins height, to make a water bath.
Bake in pre-heated oven for about 40-45 minutes until creme brûlée is set and slightly jiggly.
Remove and let it cool down. Refrigerate creme brûlée until set, about 2 hours.
When ready to serve, sprinkle about 1 tablespoon of sugar over each creme brûlée and make sure it's an even layer. Torch the top evenly with circular motion until all the sugar is melted and slightly caramelized. Let it sit for a few minutes before cracking that top!
ENJOY!!!  HAPPY  COOKING!
Tune in every  Thursday at 3 p.m.  for "Cooking with Karen"
If you would like to submit  your favorite  recipe, please  email it to
kareno@winyradio.com
 QUICK MENU:      
WE   HAVE  CATEGORIZED THE RECIPES FOR YOUR CONVENIENCE…..
PAST RECIPES OF THE WEEK……
CLICK ON  THE CATEGORY   YOU RE LOOKING FOR AND YOU WILL FIND YOUR FAVORITE RECIPE OF THE WEEK, THEN JUST CLICK ON  IT AND OPEN.