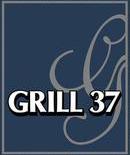 FEATURED RECIPE OF THE WEEK
TO VISIT GRILL 37  WEBSITE CLICK THE LOGO
Pan Seared Duck Breast
Ingredients
Pekin (or other) Duck Breasts
Kosher Salt and Freshly Ground Pepper
Canola Oil
Instructions
Score the fat of the chilled breasts with a sharp knife into a 1/2″ hatch being careful not to pierce the meat.
Pat dry and season well with Kosher Salt and pepper. Rub the seasoning into the skin.
Drizzle a thin layer of canola oil into a cold heavy carbon steel or cast iron skillet, then place the breasts fat side down and turn the heat on to medium. Press the breasts down so the skin fully makes contact with the pan.
Render the fat render for about 20 minutes, or until the skin is crispy and most of the fat is rendered off.
Turn the heat down to low and carefully turn the breasts over to finish cooking on the flesh side. Immediately sprinkle a little more salt on the hot skin.
Cook on the flesh side for 2 to 5 minutes, depending on the size of your duck breasts. Until the internal temperature reaches 125° to 130°F for medium-rare.
Remove from the skillet and rest skin side up uncovered for 10 minutes before slicing and serving.
Notes
Cook 80% on the skin side and finish on the flesh side for just a few minutes.
Cook times depend on the size of the duck breasts.
Blueberry Balsamic Duck Sauce
1 ½ cups fresh or frozen blueberries
3 Tbls sugar
½ yellow onion (fine dice)
Zest and Juice of one orange
1 ½ Tbls butter or duck fat
Pinch of thyme
3 tbls aged balsamic
S&P to taste
In a sauce pan on medium heat, melt your butter or duck fat and sautee the onions just until starting to caramelize on the edges. Add the blueberries, orange juice and sugar. Bring to a simmer and keep stirring so not to burn. Add the zest, balsamic, thyme and salt and pepper to taste. Let simmer until thick enough to coat the back of a spoon.
Also great on chicken thighs or roast pork.
ENJOY!!!  HAPPY  COOKING!
Tune in every  Thursday at 3 p.m.  for "Cooking with Karen"
If you would like to submit  your favorite  recipe, please  email it to
kareno@winyradio.com
 QUICK MENU:      
WE   HAVE  CATEGORIZED THE RECIPES FOR YOUR CONVENIENCE…..
PAST RECIPES OF THE WEEK……
CLICK ON  THE CATEGORY   YOU RE LOOKING FOR AND YOU WILL FIND YOUR FAVORITE RECIPE OF THE WEEK, THEN JUST CLICK ON  IT AND OPEN.