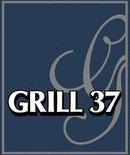 FEATURED RECIPE OF THE WEEK
TO VISIT GRILL 37 WEBSITE CLICK THE LOGO
LEG OF LAMB ~ Karen O
YOU WILL NEED:
ONE BONELESS LEG OF LAMB – I LIKE TO BUTTERFLY MY LEG OF LAMB TO OPEN IT UP. THEN I RUB THE MIXTURE ON ONE SIDE OF THE MEAT, ROLL IT UP AGAIN, TIE WITH TWINE, RUB MORE MIXTURE ON THE OUTSIDE OF THE LEG OF LAMB. LET SIT AT ROOM TEMP FOR 30 MINUTES. USING MEDIUM TO HIGH HEAT, HEAT SOME OIL IN A HEAVY SKILLET. BROWN BOTH SIDES OF MEAT. IF USING AN OVEN SAFE SKILLET, LIKE CASST IRON, I BAKE RIGHT IN THE SKILLET. IF NOT TRANSFER MEAT TO A ROASTING PAN. BAKE AT 325 DEGREES FOR ABOUT 15 TO 20 MINUTES PER POUND, TILL MEAT REGISTERS 120 TO 130 DEGREES INTERNAL TEMPERATURE. I LIKE MY LAMB A LITTLE PINK INSIDE. DON'T FORGET TO LET THE MEAT REST BEFORE SLICING.
METHOD #2 – AFTER RUBBING OUTSIDE OF LAMB WITH MUSTARD MIXTURE, ROLL MEAT IN PANKO BREAD CRUMBS AND LET SIT AT ROOM TEMP FOR 30 MINUTES. SKIP BROWNING THE MEAT AND GO RIGHT TO THE OVEN.
RUB MIXTURE:
2 LARGE CLOVES OF GARLIC (SMASHED)
2 TBS DIJON MUSTARD
1 TBS SOY SAUCE
¼ CUP OLIVE OIL (SOMETIMES I USE SESAME OIL)
½ TSP ROSEMARY
¼ TSP PEPPER
1 TBS LEMON JUICE
PLACE ALL INGREDIENTS IN A BOWL AND WHISK UNTIL YOU HAVE A MAYO LIKE CONSISTENCY.
JUNIPER ROASTED LAMB ~ Ian
1 LEG OF LAMB (BUTTERFLIED OR BONE IN) 5-8LBS.
¼ CUP BUTTER MELTED
½ CUP BLENDED OIL
10 GLOVES OF GARLIC CRUSHED
½ CUP OF GIN (HENDRIKS IS MY FAVORITE)
½ CUP LEMON JUICE
1 TBLS WORCESTERSHIRE SAUCE
8 LARGE SPRGS FRESH ROSEMARY CHOPPED
2 TBLS SOY SAUCE
1 TBLS CRACKER PEPPER
1 ½ TBLS FRESH THYME
1 CUP HONEY
MIX ALL INGREDIENTS TOGETHER AND MARINATE THE LAMB FOR AT LEAST 6 HOURS BUT 24 IS BEST.
PREHEAT OVEN TO 350. PLACE LAMB IN BACKING RACK AND BAKE FOR ABOUT AN HOUR AND A HALF. I LIKE TO TAKE THE LAMB OUT WHEN IT IS ABOUT 135* AND LET IT REST FOR 10-15 MINUTES BEFORE CUTTING INTO IT. YOU CAN SAVE THE MARINADE FOR BASTING THE LAMB.
THIS MARINADE IS GREAT FOR GRILLING LAMB CHIPS ON THE GRILL AND OTHER RECIPES WITH LAMB.
ENJOY!!! HAPPY COOKING!
Tune in every Thursday at 3 p.m. for "Cooking with Karen"
If you would like to submit your favorite recipe, please email it to
kareno@winyradio.com
QUICK MENU:
WE HAVE CATEGORIZED THE RECIPES FOR YOUR CONVENIENCE…..
PAST RECIPES OF THE WEEK……
CLICK ON THE CATEGORY YOU RE LOOKING FOR AND YOU WILL FIND YOUR FAVORITE RECIPE OF THE WEEK, THEN JUST CLICK ON IT AND OPEN.