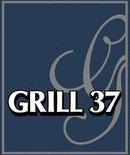 FEATURED RECIPE OF THE WEEK
TO VISIT GRILL 37 WEBSITE CLICK THE LOGO
Aunt Linda's Pumpkin Roll 
Cake
5 eggs
1 1/3 cups canned pumpkin
1 ½  cup flour
1 ½  tsp Baking soda
3 tsp cinnamon
Filling
12oz cream cheese
1 ½ cup Confection sugar
6Tbls butter (softened)
1 ½ tsp vanilla
Pre heat oven to 350*
With electric mixer, beat eggs  until light and fluffy ( about 3 min) then while mixing slowly add the 1 ½ cups sugar and continue to beat until sugar is dissolved and fluffy and lemony in color( about another 2 min).stop mixer and then add remaining ingredients, canned pumpkin, flour, baking soda, and cinnamon.  Beat until all ingredients are mixed well.  place batter in a parchment lined baking sheet and spread batter out so that it is smooth and even. Bake at 350 for about 15-20 min.  ( if you like you can add chopped toasted walnuts or pecans to the cake before baking. While cake is baking sprinkle powdered sugar on a clean kitchen towel that is slightly larger than the baking sheet and lay out on a clean surface.  When the cake is firm to the touch it is done baking. Remove from oven and let cool on the counter for one min. do not let cake cool too much or it will be too hard to roll. Carefully invert the cake on top of the kitchen towel, and roll into the towel starting with the long side of the cake. Let cake cool rolled in towel. While cake is cooling beat cream cheese, butter, sugar and vanilla together until light and fluffy.  Unroll pumpkin cake from towel and remove towel. Spread cream cheese mixture on inside of cake covering the whole thing and then roll back up. Wrap and refrigerate.
Enjoy!
This recipe is from Chef Ian Farquhar, Grill 37.
ENJOY!!!
Tune in every Thursday at 3 p.m. for "Cooking with Karen"
If you would like to submit your favorite recipe, please email it to
kareno@winyradio.com
 QUICK MENU:   
WE  HAVE CATEGORIZED THE RECIPES FOR YOUR CONVENIENCE…..
PAST RECIPES OF THE WEEK……
CLICK ON THE CATEGORY  YOU RE LOOKING FOR  AND YOU WILL FIND YOUR FAVORITE RECIPE OF THE WEEK, THEN JUST CLICK ON IT AND OPEN.