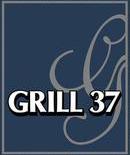 FEATURED RECIPE OF THE WEEK
TO VISIT GRILL 37  WEBSITE CLICK THE LOGO
Marinated Mushrooms
The Helm (Warwick, Rhode Island)
Prep time: 35 mins
SERVES: 4
INGREDIENTS
*                             1  lb  small whole mushroom
*                             1  tablespoon salt
*                             1  quart water
*                             1⁄3 cup  oil
*                             1⁄4 cup white wine vinegar
*                             1  small onion, chopped
*                             1⁄2 teaspoon peppercorn
*                             1  bay leaf
*                             1  teaspoon salt
*                             1  pinch crushed red pepper flakes
DIRECTIONS
Dissolve 1 tablespoon salt in water;
Add mushrooms, soaking for 10 minutes.
Drain mushrooms and discard liquid.
In saucepan, combine salad oil, vinegar, onion, peppercorns, bay leaf, 1 teaspoon salt, and red pepper; Add mushrooms.
Bring to boil, simmering for 5 minutes or until mushrooms are tender.
Cool completely.
Place in glass bowl or jar and place in refrigerate overnight to blend spices.
Pickled red onion
1 ½ cup apple cider vinegar
¾ cup granulated sugar
1 large red onion (sliced thin)
1 whole clove garlic
1tsp crushed red pepper flakes. (optional)
In a small saucepan bring the apple cider vinegar and sugar to a simmer. You just want it to simmer for a few minutes so the sugar dissolves. Place your red onion and whole clove of garlic in a canning jar or mixing bowl. If adding crushed red pepper add it now to the sugar and vinegar mixture, stir then pour on top of sliced red onions. Let cool to room temperature. Then cover and refrigerate for at least 24 hours. Make sure onions are completely covered by liquid mixture.
Great on tacos, hot dogs, burgers, fish and steak.
ENJOY!!!  HAPPY  COOKING!
Tune in every  Thursday at 3 p.m.  for "Cooking with Karen"
If you would like to submit  your favorite  recipe, please  email it to
kareno@winyradio.com
 QUICK MENU:      
WE   HAVE  CATEGORIZED THE RECIPES FOR YOUR CONVENIENCE…..
PAST RECIPES OF THE WEEK……
CLICK ON  THE CATEGORY   YOU RE LOOKING FOR AND YOU WILL FIND YOUR FAVORITE RECIPE OF THE WEEK, THEN JUST CLICK ON  IT AND OPEN.