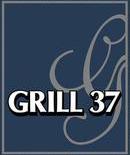 FEATURED RECIPE OF THE WEEK
TO VISIT GRILL 37  WEBSITE CLICK THE LOGO
Burrata Boards
Burrata is a ball of fresh mozzarella cheese with a hollow center that's usually filled with thickened cream. It has a mild flavor and is a versatile main attraction for your board because it pairs perfectly with both sweet and savory flavors.  It is spreadable but can also be sliced. 
A burrata board is exactly what it sounds like:  A charcuterie-type spread arranged around this creamy cheese. Try layering burrata with your favorite in-season fruits, veggies, and cured meats. Don't forget crackers, pita chips or toast points.
Try this sweet/savory combination:  surround the cheese with slices of fresh peaches (try grilling them for an extra added flavor boost), fresh cherries, salty prosciutto, thin slices of heirloom tomatoes, and top it off with fresh mint and basil. Drizzle with honey.
If you want to keep it simple:  Pair the burrata with toast points and an interesting jam or fruit spread.  My favorites are from Stonewall Kitchens and they include fig, watermelon, peaches with amaretto, and bing cherry.  I prefer a simple water cracker with this version. 
As the season starts to cool off and the leaves turn color, try combining burrata, roasted butternut squash, caramelized onions, and Italian sausage.  Drizzle with a balsamic reduction. This would be great with focaccia.
The combinations are endless and there is no right way or wrong way.  It's all about the flavors that you like.
ENJOY!!!  HAPPY  COOKING!
Tune in every  Thursday at 3 p.m.  for "Cooking with Karen"
If you would like to submit  your favorite  recipe, please  email it to
kareno@winyradio.com
 QUICK MENU:      
WE   HAVE  CATEGORIZED THE RECIPES FOR YOUR CONVENIENCE…..
PAST RECIPES OF THE WEEK……
CLICK ON  THE CATEGORY   YOU RE LOOKING FOR AND YOU WILL FIND YOUR FAVORITE RECIPE OF THE WEEK, THEN JUST CLICK ON  IT AND OPEN.