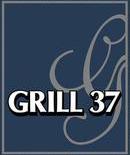 FEATURED RECIPE OF THE WEEK
TO VISIT GRILL 37  WEBSITE CLICK THE LOGO
Spinach and Artichoke Mac & Cheese 
Ingredients
Kosher salt and pepper
1 lb. short pasta, such as orecchiette
2 c. whole milk, plus more as needed
1 8-oz pkg. cream cheese, cubed
1/8 to 1/4 tsp cayenne
8 oz. sharp Cheddar, grated (3 cups), divided
6 tbsp. unsalted butter, at room temp, divided, plus more for greasing
2 c. packed baby spinach, chopped
1 8-oz jar marinated artichokes, drained and roughly chopped
1 1/2 c. crushed Ritz crackers (about 1 1/4 sleeves)
3/4 tsp. garlic powder
Directions
Heat oven to 375°F. Grease 13- by 9-inch baking dish.
In large saucepan, bring 4 cups water and 1/2 teaspoon salt to a boil on high. Add pasta and cook, stirring occasionally, 8 minutes.
Stir in milk and cream cheese and cook until cream cheese has melted and pasta is al dente, about 5 minutes more.
Remove pan from heat and stir in cayenne, 2 cups Cheddar, 3 tablespoons butter, and ¼ teaspoon each salt and pepper. Fold in spinach and artichokes, adding more milk if the mixture is too thick. Transfer mixture to prepared baking dish. Top with remaining 1 cup
In medium bowl, combine crackers with garlic powder and remaining 3 tablespoons butter. Sprinkle crumbs evenly over pasta.
Bake until sauce is bubbling and crumbs are golden brown, about 20 minutes. Let cool 5 minutes before serving.
French Onion Spaghetti Pie 
Ingredients
1 tbsp. olive oil
3 large sweet onions
2 clove garlic
1 tbsp. fresh thyme leaves
1/2 tsp. sugar
1/2 c. dried bread crumbs
3 tbsp. butter
1 1/2 c. shredded Gruyère cheese
4 large eggs
2 c. whole milk
1/2 c. dry white wine
1 lb. spaghetti
Directions
Preheat oven to 375 degrees F. Heat large covered saucepot of salted water to boiling on high.
In 12-inch nonstick skillet, heat oil on medium. Add onions, garlic, thyme, sugar, and 1 teaspoon salt. Cook, covered, 10 minutes, stirring often.
In medium bowl, combine crumbs, 2 tablespoons butter, and 1/2 cup Gruyère. In large bowl, whisk eggs, milk, 1 cup Gruyère, and 1/2 teaspoon each salt and pepper; set aside.
Uncover skillet. Cook 5 to 7 minutes on medium-high., until golden, stirring often. Add wine and 1 tablespoons butter. Cook until wine is reduced by half.
Cook pasta for half the time label directs. Drain; return to pot. Stir in onion mixture and egg mixture. Transfer pasta to skillet. Top with crumbs. Bake 30 minutes or until eggs set.
This recipe is from Woman's Day Magazine
ENJOY!!!  HAPPY  COOKING!
Tune in every  Thursday at 3 p.m.  for "Cooking with Karen"
If you would like to submit  your favorite  recipe, please  email it to
kareno@winyradio.com
 QUICK MENU:      
WE   HAVE  CATEGORIZED THE RECIPES FOR YOUR CONVENIENCE…..
PAST RECIPES OF THE WEEK……
CLICK ON  THE CATEGORY   YOU RE LOOKING FOR AND YOU WILL FIND YOUR FAVORITE RECIPE OF THE WEEK, THEN JUST CLICK ON  IT AND OPEN.