FEATURED RECIPE OF THE WEEK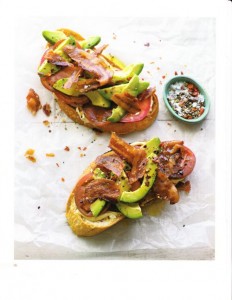 AVOCADO, BACON AND TOMATO TARTINES
YOU WILL NEED:  FOR GARLIC AIOLI:
4 CLOVES GARLIC, COARSELY CHOPPED
½ TSP SALT
2 LARGE EGGS
2 TBS FRESH LEMON JUICE
1 TSP DIJON MUSTARD
1-1/2 CUPS OLIVE OIL
YOU WILL NEED:  FOR TARTINES:
4 SLICES COARSE COUNTRY BREAD, ½ INCH THICK
2 MEDIUM TOMATOES, ¼ INCH THICK SLICES
SALT, CRACKED PEPPER
8 THIN SLICES COOKED BACON, BROKEN INTO SMALL PIECES OR CRUMBLED
1 AVOCADO, HALVED, PITTED, PEELED AND THINLY SLICED
TO MAKE THE AIOLI:  PROCESS THE GARLIC AND SALT IN BLENDER OR FOOD PROCESSOR.  ADD THE EGGS, LEMON JUICE AND MUSTARD, PROCESS AGAIN.  WITH THE MOTOR RUNNING, SLOWLY POUR IN THE OIL AND BLEND UNTIL THE MIXTURE THICKENS TO THE CONSISTENCY OF MAYONAISE.  COVER AND REFRIGERATE UNTIL READY TO USE.  
PREHEAT THE BROILER.  ARRANGE BREAD SLICES ON A BAKING SHEET.  PLACE IN THE BROILER AND COOK UNITL LIGHTLY TOASTED, 2 TO 3 MINUTES.  I PREFER TO DO THIS ON MY GRILL.  I PREFER THE FLAVOR AND I LIKE THE GRILL MARKS.
TO ASSEMBLE; SPREAD AIOLI ON THE BREAD AND TOP WITH A FEW TOMATOES SLICES.  LIGHTLY SALT THE TOMATOES. TOP WITH AVOCADO SLICES, LIGHLTY SEASON AGAIN WITH SALT.  SEASON WITH CRACKED PEPPER.  TOP WITH BACON.  SERVE. 
NOTE:  I USED YELLOW AND RED TOMATOES.  VERY COLORFUL
ENJOY!!!
Tune in every Thursday at 3 p.m. for "Cooking with Karen"
If you would like to submit your favorite recipe, please email it to
kareno@winyradio.com
 QUICK MENU:   
WE  HAVE CATEGORIZED THE RECIPES FOR YOUR CONVENIENCE…..
PAST RECIPES OF THE WEEK……
CLICK ON THE CATEGORY  YOU RE LOOKING FOR  AND YOU WILL FIND YOUR FAVORITE RECIPE OF THE WEEK, THEN JUST CLICK ON IT AND OPEN.