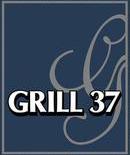 FEATURED RECIPE OF THE WEEK
TO VISIT GRILL 37  WEBSITE CLICK THE LOGO
Maine Lobster Lasagna
Prep 1 h  – Cook 55 m   Ready In 1 h 55 m
Recipe By:Shelak
"I made up this recipe because my hubby wanted to try a lasagna made with lobster meat. I combine tender steamed Maine lobster chunks in between pasta, jarred or homemade Alfredo Sauce and fresh spinach and ricotta, Cheddar and Parmesan cheeses. Serve with a tossed garden salad and oven toasted garlic bread."
Ingredients
1 (15 ounce) container ricotta cheese
2 eggs
2 cups shredded Cheddar cheese
1 cup shredded mozzarella cheese
1 cup grated Parmesan cheese
1 medium onion, minced
1 tablespoon minced garlic
2 tablespoons chopped fresh parsley
1 teaspoon freshly ground black pepper
2 (16 ounce) jars Alfredo pasta sauce
16 no-boil lasagna noodles
2 pounds cooked and cubed lobster meat
1 (10 ounce) package baby spinach leaves
Directions
Preheat the oven to 375 degrees F (190 degrees C). Grease a 9×13 inch baking dish.
In a large bowl, stir together the ricotta cheese, eggs, half of the Cheddar, half of the mozzarella cheese and half of the Parmesan cheese. Mix in the onion, garlic, parsley and pepper.
Spread 1 1/2 cups of Alfredo sauce in the bottom of the prepared baking dish. Top with a layer of lasagna noodles. Arrange 1/3 of the lobster meat over the noodles, cover with 1/3 of the ricotta cheese mixture, then 1/3 of the spinach and then another layer of Alfredo sauce. Repeat this process two more times ending with sauce on top. Sprinkle the remainder of the Cheddar, mozzarella and Parmesan cheeses over the top. Give the whole pan a gentle shake to get everything settled in.
Bake, covered loosely with aluminum foil, for 45 minutes in the preheated oven. Remove the foil and continue baking for an additional 10 minutes or until the top is browned. Let stand for 10 minutes before serving.
ENJOY!!!  HAPPY  COOKING!
Tune in every  Thursday at 3 p.m.  for "Cooking with Karen"
If you would like to submit  your favorite  recipe, please  email it to
kareno@winyradio.com
 QUICK MENU:      
WE   HAVE  CATEGORIZED THE RECIPES FOR YOUR CONVENIENCE…..
PAST RECIPES OF THE WEEK……
CLICK ON  THE CATEGORY   YOU RE LOOKING FOR AND YOU WILL FIND YOUR FAVORITE RECIPE OF THE WEEK, THEN JUST CLICK ON  IT AND OPEN.