Here's a little information we thought you'd like to know about WINY Radio 
FIRST DAY ON THE AIR~MAY 3, 1953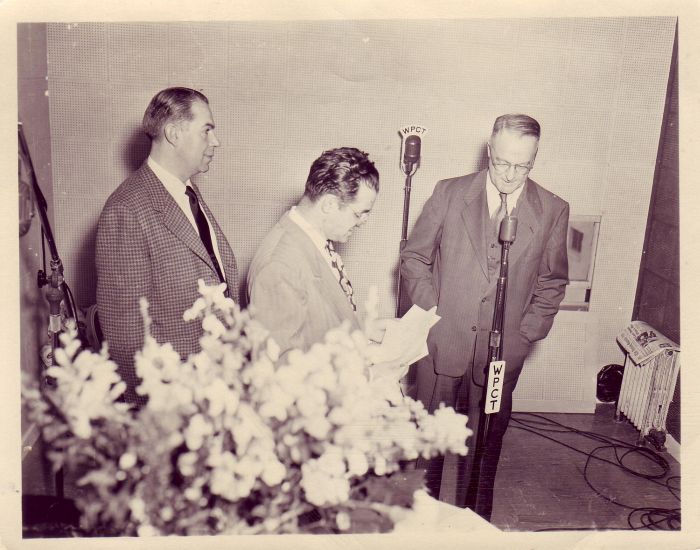 LEFT TO RIGHT:  BILL WYNE AND DAN HYLAND
WE ARE NOT SURE WHO THE THIRD PERSON IN THIS PICTURE IS.  IF YOU HAVE ANY IDEA, PLEASE DROP US A LINE AT INFO@WINYRADIO.COM AND HELP US BUILD OUR HISTORY PAGE.
QSL CARD FOR ORIGINAL WINY (WPCT)~OWNER, DAN HYLAND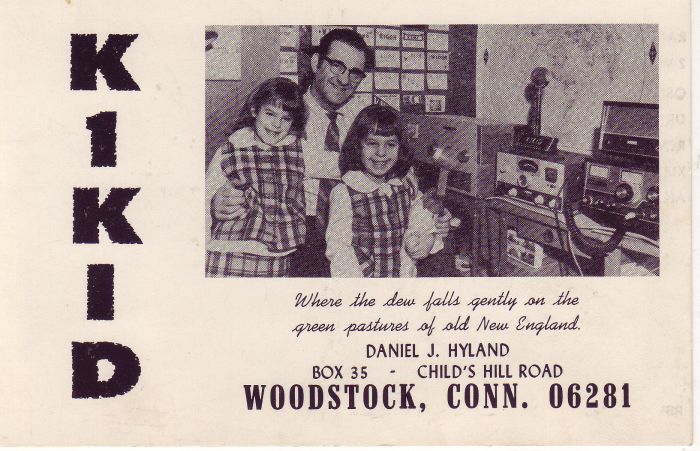 BOB GERARDI, ONE OF WPCT'S FIRST ANNOUNCERS AT THE CONTROLS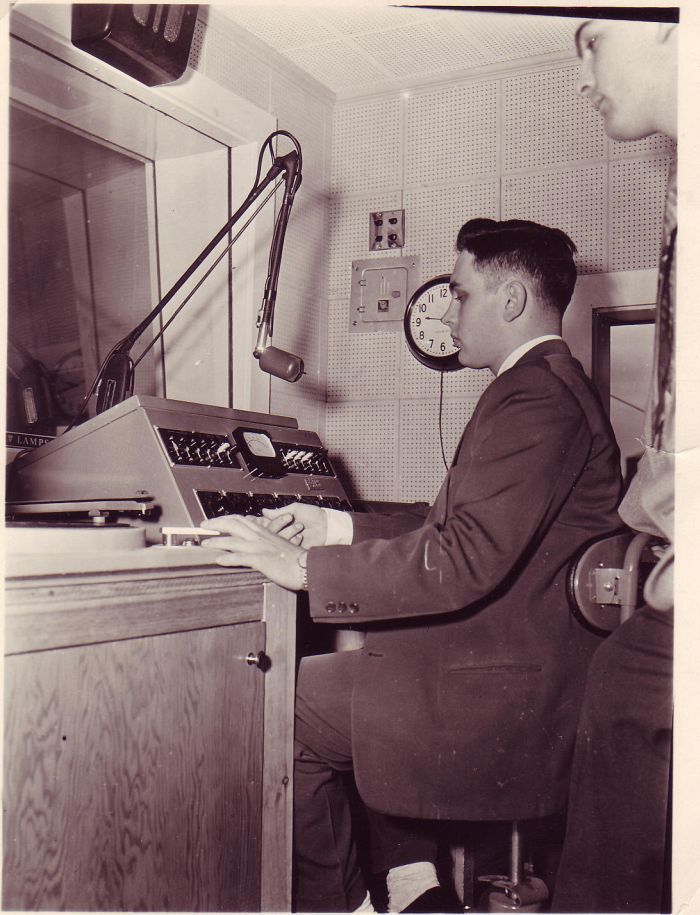 DICK ALARIE DID IT ALL…..NEWS, SPORTS, ANNOUNCING AND SALES.  DICK WAS THE HOST OF GOLDEN GREATS OF RADIO FOR MANY YEARS.  HIS DEEP VOICE AND GENTLE MANNER ARE FONDLY REMEMBERED BY HIS CO-WORKERS AND LISTENERS.  DICK WAS A HUGE LAUREL AND HARDY FAN AND HIS "SPECIAL" LAUREL AND HARDY COFFEE MUG STILL HANGS IN THE WINY KITCHEN.  IT IS A WINY TRADITION TO TELL NEW EMPLOYEES THAT DICK'S MUG IS OFF LIMITS.  IT IS OUR SIMPLE TRIBUTE TO A TRUE RADIO LEGEND.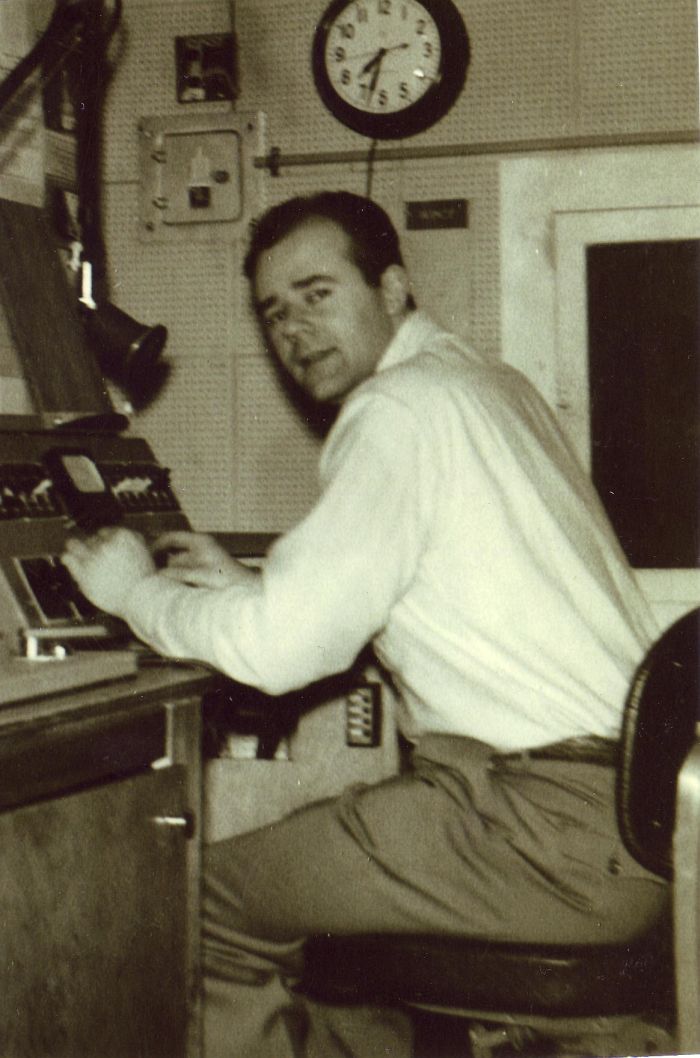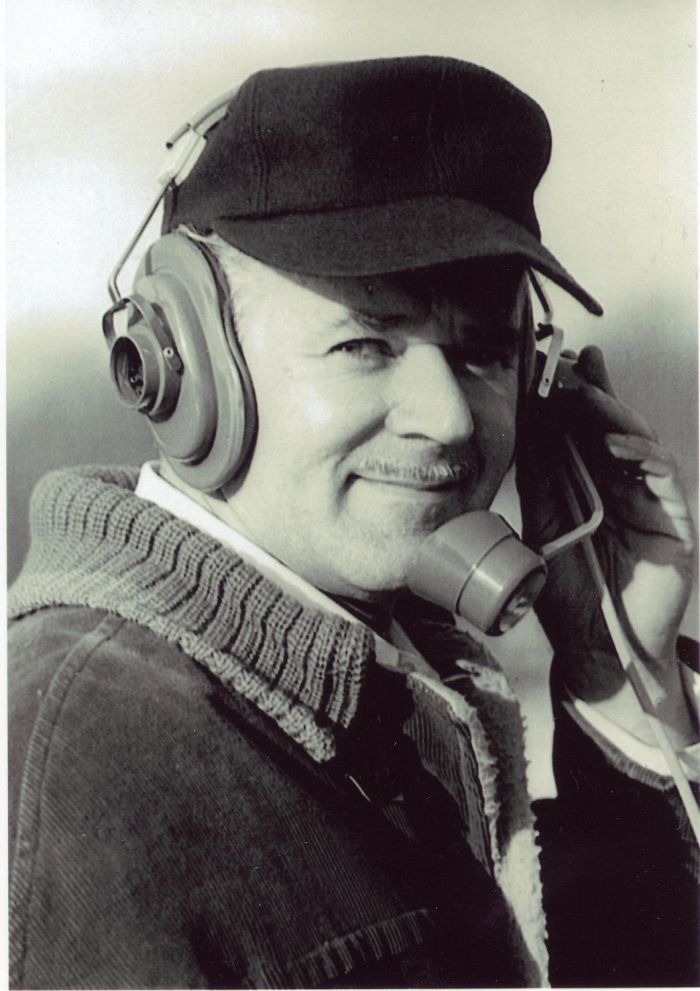 FRANK CARROLL AT THE MIC.  WPCT  AND WINY LISTENERS WERE FORTUNATE TO HAVE THE MAJOR MARKET TALENT OF FRANK CARROLL FOR SO MANY YEARS.  FRANK HANDLED OUR SPORTS REPORTS, PLAY-BY-PLAY AND WAS A POPULAR ON-AIR PERSONALITY.  WE LOST FRANK IN DECEMBER OF 1982 AND WE STILL MISS HIM TO THIS DAY.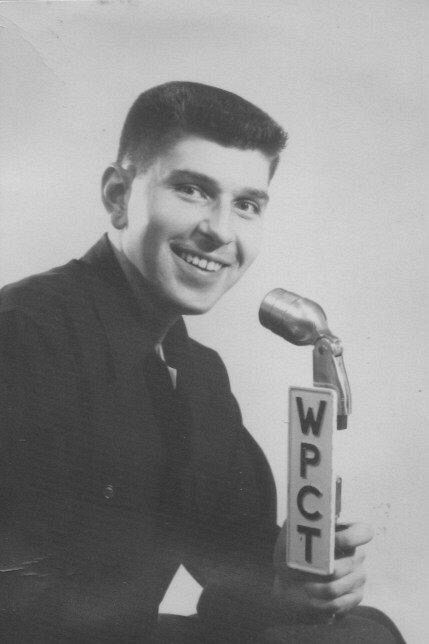 WINY LEGEND AND FORMER OWNER MIKE GERARDI AT THE CONTROLS OF THE RADIO STATION HE BUILT AT HIS HOUSE WHILE IN HIGH SCHOOL.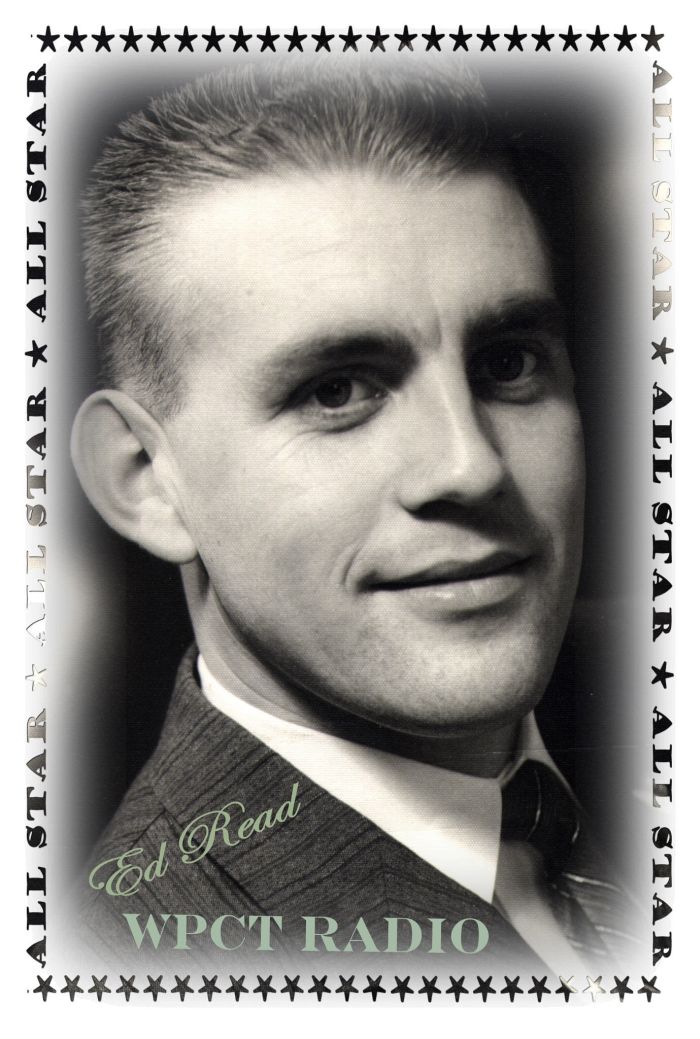 Here are some pictures and a brief story from David in Sterling, Illinois………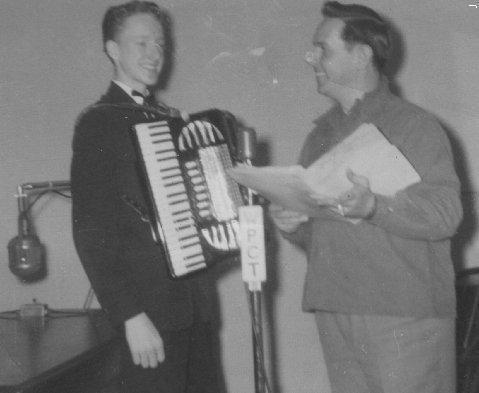 Les Douglas was the Primo Newscaster for Eastern Connecticut.  Here Les is pictured
with David.  Les was the announcer for David's first program on-air call "Accoridion Echos".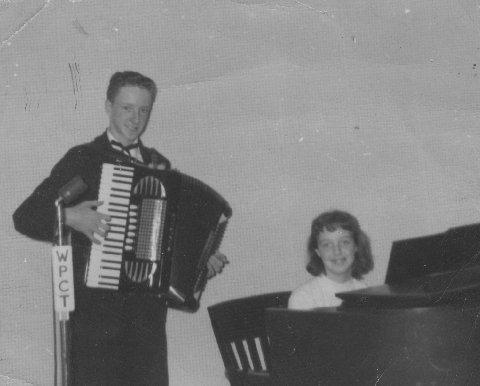 Again, David with his sister Margaret (now known as Peg Gaudreau of Norwich) at the WPCT Piano.
The station was originally up a long flight of stairs in the Putnam Hotel.  WINY has moved several times since then.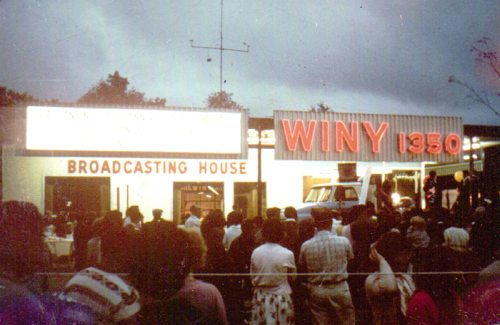 A WINY EVENT GOING ON IN THE 70′S.  THE WINY STUDIO WAS LOCATED IN WHAT IS NOW CALLED RIVERFRONT COMMONS.  WINY WAS LOCATED WHERE THE CRABTREE & EVELYN STORE IS LOCATED TODAY.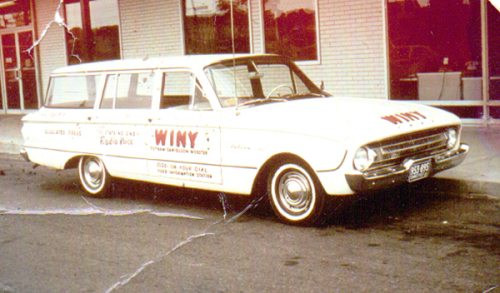 THE WINY SALES CAR IN FRONT OF RIVERFRONT COMMONS AT THE WINY STUDIO IN THE 70′S
"I'M SARAH MAGAW, WINY NEWS….."  i HAD THE GOOD FORTUNE OF MEETING FORMER WINY AFTERNOON NEWS ANCHOR, SARAH MAGAW AT THE BROOKLYN FAIR ON FRIDAY, AUGUST 23, 2013.  SHE DID THE AFTERNOON NEWS AND OCCASIONAL TALK SHOW FILL-IN FROM 1973-1975.  SHE SAID SHE CAME IN FOR AN INTERVIEW WITH SALES MANAGER PETER AUCOIN FOR AN OPENING IN THE SALES DEPARTMENT.  DURING THE INTERVIEW, PETER SAID, "WAIT A MINUTE, I WANT YOU TO MEET OUR NEWS DIRECTOR, DAVID MELENDY".  DAVE WAS IMPRESSED WITH HER CRISP SPEAKING VOICE AND SAID, "YOU'RE ON IN 10 MINUTES".   SHE READ THE NEWS HEADLINES ON THE AIR AND NAILED IT.  THEN HE SAID, "YOU'RE DOING THE 1:00 P.M. NEWS".  ANOTHER FLAWLESS PERFORMANCE AND SHE WAS HIRED ON THE SPOT.  SHE SHARED MEMORIES OF FRANK CARROLL, DICK ALARIE, MIKE GERARDI, AND FRANK TRIPPI. SHE NOW RUNS THE PORTOFINO EQUESTRIAN CENTER NEAR RALEIGH, NORTH CAROLINA.  I HEARD SARAH'S NAME MENTIONED MANY TIMES BY MIKE GERARDI, BUT HAD NEVER MET HER.  WHEN KAREN AND I PURCHASED WINY 12 YEARS AGO, WE  KNEW ALL THE OLD WINY JINGLES WERE LOVINGLY (AND DIGITALLY) PRESERVED, BUT THERE WERE PRECIOUS FEW PHOTOS AND MEMORABILIA FROM THE PAST. THIS IS A NICE ADDITION TO OUR HISTORY PAGE. WE APPRECIATE RECEIVING OLD PHOTOS FROM LISTERNER.~GARY OSBREY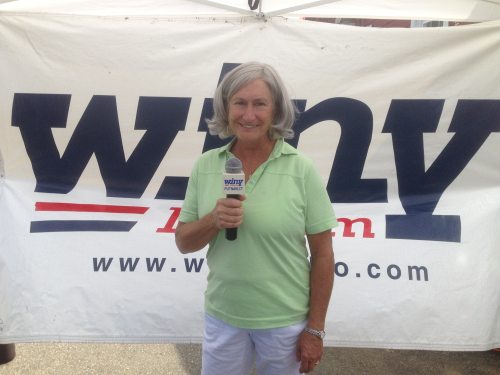 OUR CURRENT STUDIO… 45 POMFRET STREET…  CIRCA 1980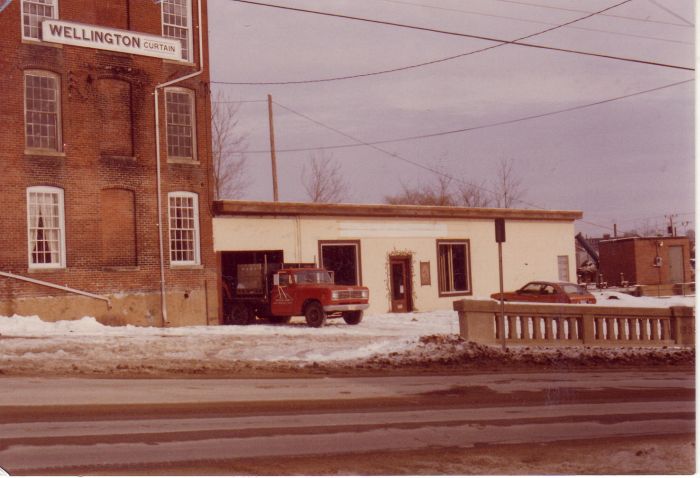 BROADCAST HOUSE UNDER CONSTRUCTION …..MAY 1982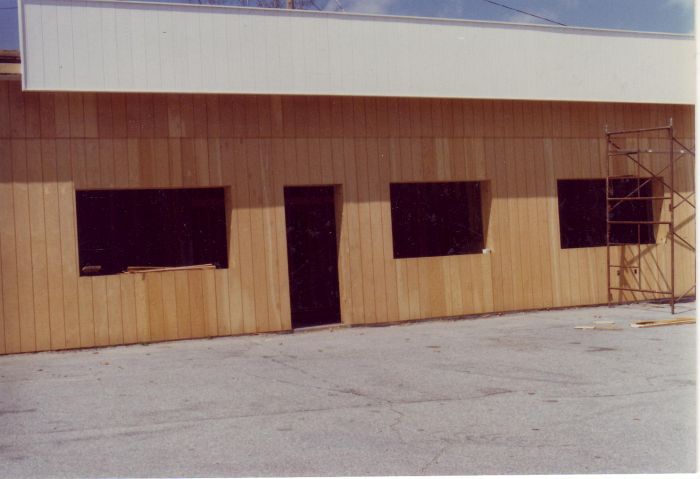 OSBOURNE ELECTRIC INSTALLS THE WINY SIGN AT BROADCAST HOUSE….JOHN OSBORN WAS A GREAT GUY AND WE MISS HIM.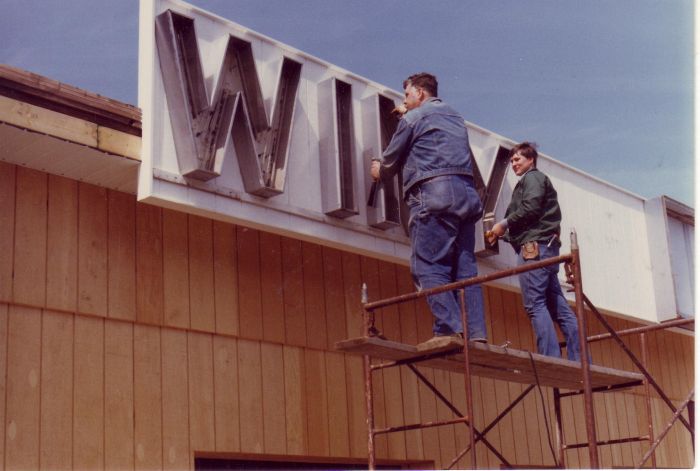 RAYMOND BURR AKA "PERRY MASON" STOPS BY THE WINY TALK SHOW FOR A CHAT WITH HOST FRED HEDENDBERG.  MIKE AND BOB GERARDI LOOK ON.  RAYMOND BURR WAS THE SPOKESPERSON FOR CONNECTICUT'S INDEPENDENT INSURANCE AGENTS GROUP AND WAS IN TOWN FOR THE RIBBON CUTTING AT BOB GERARDI'S NEW BUILDING AT 16 POMFRET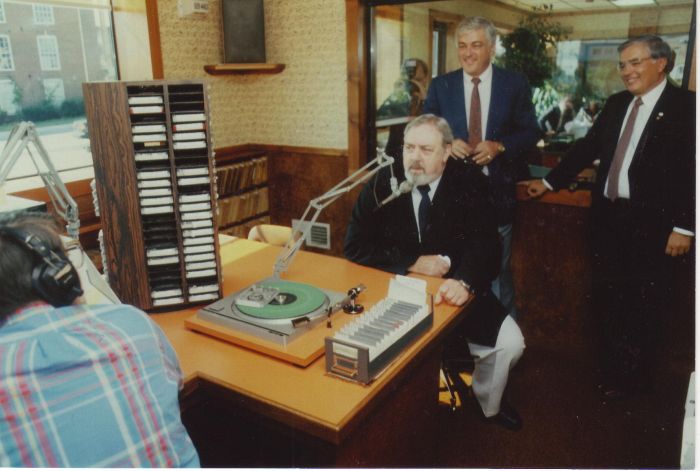 JOE MATHIEU, ON-AIR PERSONALITY AT WINY,
NOW WORKS AT SIRIUS XM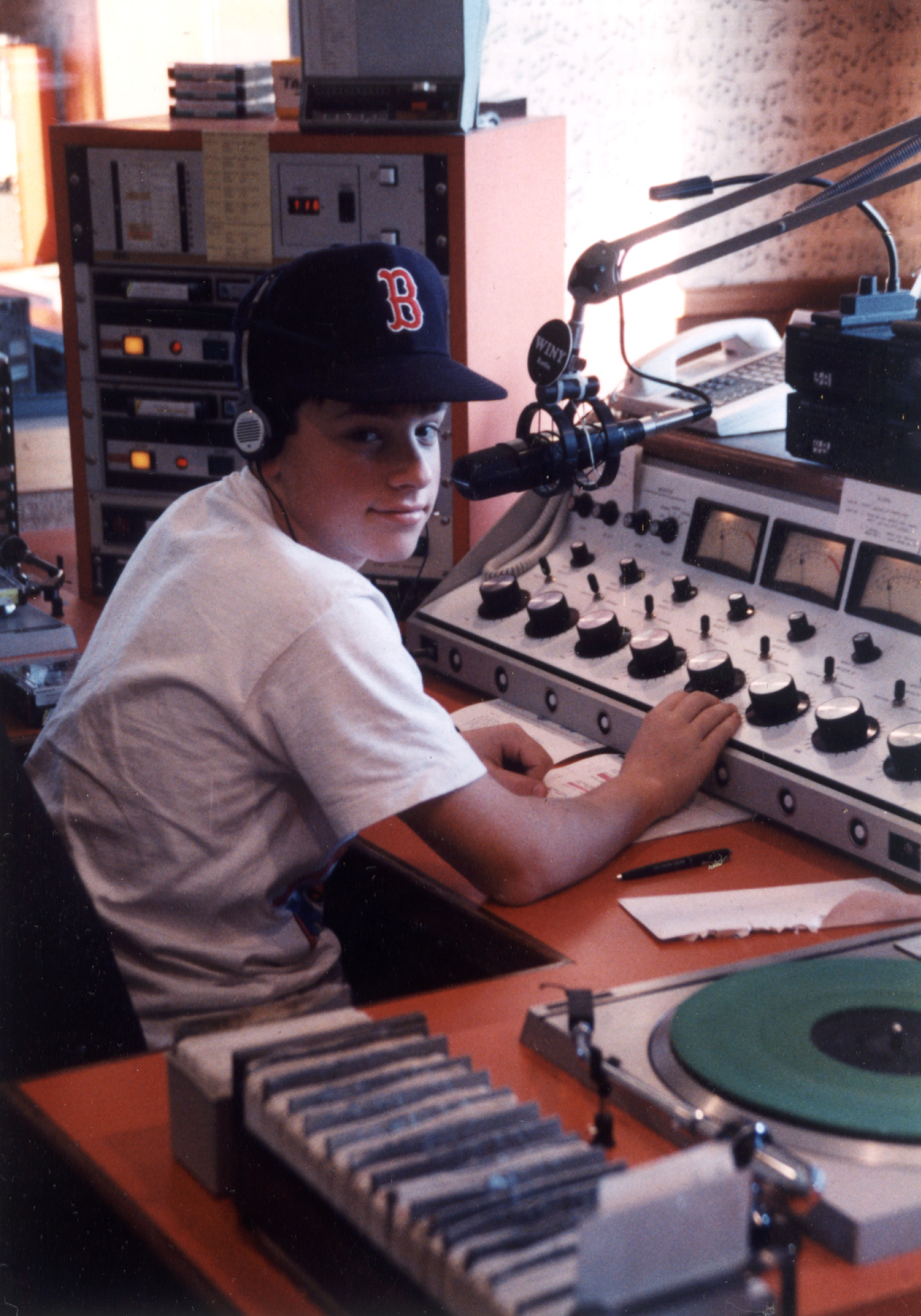 THE TORCH IS PASSED!   MAY 31,2001   MIKE AND KATHY GERARDI SELL WINY TO LONGTERM EMPLOYEES, GARY & KAREN OSBREY.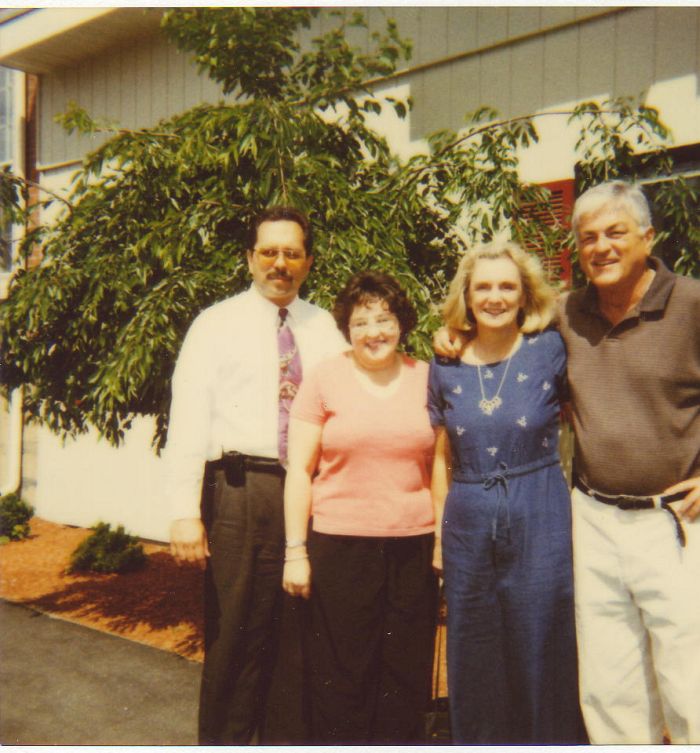 GARY AND KAREN WASTE NO TIME GETTING RIGHT TO WORK…..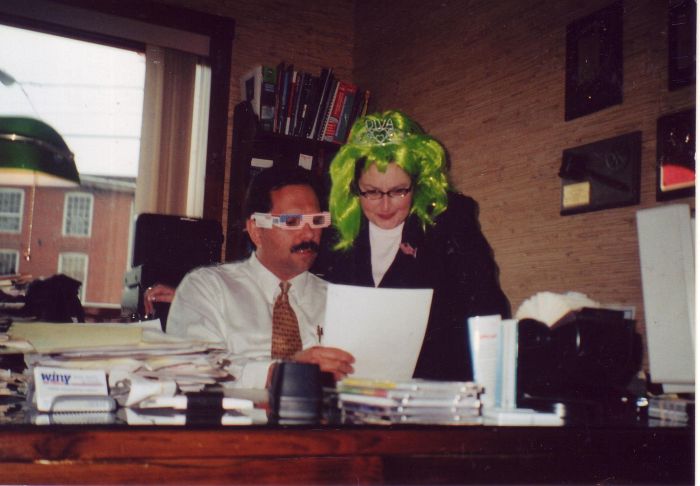 If you have pictures or stories about the history of WINY, please email us at kareno@winyradio.com